By Michael Knox, Independent Tribune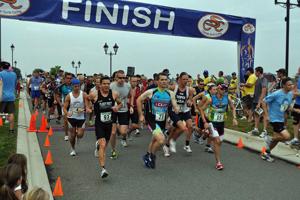 KANNAPOLIS, N.C. — Each year students from around the world come to Kannapolis to help scientists in their work at the North Carolina Research Campus. But many of those students struggle to find a place to live, since they only stay here for a few short months, working with scientists until it is time to return home or to school.
But the Kannapolis Rotary Club has been working with the North Carolina Research Campus to raise funds to buy or build a home that will house students. They are looking to raise $100,000, and over the past few years officials have organized Nutrithon, a running and bicycling event, that has now raised more than $70,000 for the project.
Whit Whitley, with the Kannapolis Rotary Club, has helped organize the event ever since they first discussed the project in 2010. He said it's important for the City of Kannapolis to be able to offer students housing.
Whitley said the money they are raising will go toward buying or building a home that could house six to eight students at a time.
"These students will come here and get their training, go back and spread whatever they have learned to other parts of the world and help build the image of what Kannapolis has to offer," Whitley said.
This year's Nutrithon starts at 7:45 a.m. Saturday at the North Carolina Research Campus, 150 Research Campus Drive, Kannapolis. There will be 5K and 8K runs starting at 7:45 a.m. and 50K and 100K recreational bike rides at 9 a.m. The cost is $35 to register for each event if you are an adult. There is a special price for Kannapolis students who want to participate in the 5K and 8K runs. Elementary school students are $5, middle school students are $7 and high school students are $10.
For individuals who don't want to participate in the run or bike ride, there will be food, a vendor fair and free entertainment by the Real Clays.
Whitley said the Kannapolis Rotary Club first began raising funds in 2010, after officials told them about the trouble they were having housing students.
Some people suggested they could stay at a hotel during their visit, but Whitley said that is unrealistic. Students do not have enough money to pay for a long-term stay at a hotel, and they are not here long enough to find a place to rent. Whitley said that quite often students have had to stay with professors while in Kannapolis.
"They've had to find what places would put them up," Whitley said. "If the main goal for (the research campus) is to survive with doctoral students coming here, then this is the salvation for Kannapolis."
Contact reporter Michael Knox at 704-789-9133.