By: Tim Reaves, Independent Tribune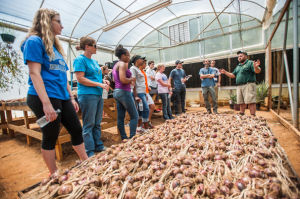 KANNAPOLIS, N.C. — A student-driven initiative at the North Carolina Research Campus (NCRC) in Kannapolis is gathering data on the frontiers of plant science and growing the scientists of tomorrow.
The Plant Pathways Elucidation Project (P2EP) is a $1.9 million program now in its second year that draws college and high school students from across North Carolina to study how plants create beneficial chemicals for human health at the molecular and genomic levels, according to the program's website. The first-of-its-kind research endeavor invites students to gain research experience in a multidisciplinary, collaborative environment incorporating both the data side of plant science — at the campus's massive Core Laboratory — and field work at local farms.
NCRC vice president for business development Clyde Higgs said program development began in part because of a dearth of North Carolina students pursuing hard science careers.
P2EP became one of the largest cooperative efforts of university and business partners ever assembled at the Research Campus.
Higgs called the program a "unique experience for students."
"This is not busy work for students," he said. "This is an opportunity for students that have an interest in science and technology to really get a strong glimpse into what it looks like to work in a science and technology environment."
BLUE GENES
The long-term study's first focus is a group of crops including blueberries, broccoli, oats and strawberries.
Scientists have long known that bioactive chemicals like anthocyanins — which give blueberries and other dark fruit their distinctive colors — interact with the human body at the smallest levels. But the actual sequences of chemical reactions that lead from complex molecules in a fruits to positive health outcomes for humans are still hard to unpack.
Enter P2EP, which gives students the chance to conduct meticulous experiments using the campus's state-of-the-art equipment to assemble a database and slowly bring the molecular mysteries into focus.
"No longer are the days of just a pipette and a sink, but a lot of this is going toward computer software," Higgs said.
Nicholas Gillitt, director of nutrition research at the NCRC's Dole Nutrition Research Laboratory, said his company is "very interested" in marker-assisted breeding, which allows scientists to tell from a seed's genes if the plant will produce a desired set of nutrients and traits.
"It takes 18 months to grow a pineapple," he said. "If you have to wait 18 months to find out whether it tastes good or has the right amount of Vitamin C or the right amount of a particular enzyme you're interested in, you're going to be waiting a long time."
Dole has a vested interest in knowing more about these pathways, he said, which could open up the possibility to tuning or tweaking genes through breeding plants with exactly the traits they're looking for.
HIGH TECH TO FARM TECH
As part of the P2EP, students took a tour of Barbee Farms in Concord, century-old family-owned vegetable farm off Pitts School Road near I-85.
On a sweltering June afternoon, farm manager Brent Barbee led a group of about 20 P2EP participants around the 60-acre farm, from the greenhouse with its varied tomato plants and drying red onions to a shed used for washing crops and drying racks of pungent garlic to the farm's distinctive peach trees.
Barbee helped transition the farm away from row crops to more diverse, nutrient rich fruits and vegetables.
He said Barbee Farms has benefitted greatly from the resurgence of the Local Foods movement.
People want to know "how it's grown, where it's grown, why it's grown the way it is, and actually start to make a conscious effort to know what they're putting in their body." Barbee said. "Most of our customers now are definitely wanting to put a finger on where their food comes from."
The dirt and sun and drone of insects made for a very different experience for students than the hum of specialized machines in an air-conditioned lab, but for many it was eye opening.
Allison Baucom, a rising junior studying biology at Catawba College in Salisbury, said seeing the plants growing in the field and greenhouses added context to the experiments and data on the Research Campus.
"It's good to see what you're doing and what you want to do from start to finish," she said, "kind of the root of it all."
Madison Love, a rising senior at A.L. Brown High School in Kannapolis, said the farm gives students background on the source of their research.
The farm was "a lot bigger than I thought," she said, adding the variables on the farm — everything from the way and time a crop is planted to the amount of sunlight and water it gets and the quality of soil, can affect its nutrient capacity.
Mason Forrest, a sophomore at UNC who graduated from A.L. Brown, agreed.
"The program is called 'Plant Pathways,' and it's in a different way, but you kind of do see the pathway from the farm to the research," he said.