By Tim Reaves, Independent Tribune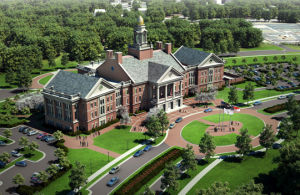 KANNAPOLIS, N.C. — Large-scale construction on the new Kannapolis municipal center and police headquarters will begin soon after the city council set a maximum price for construction and prepared to issue bonds to pay for the project at their Monday meeting.
The $32.9 million project has been in the works since February 2013, when billionaire North Carolina Research Campus developer David H. Murdock announced he would donate 6.6 acres to the City of Kannapolis.
The council originally planned to build a smaller building at the site of the old post office building off Loop Road, but moved it onto the Research Campus and expanded the scope of the project to include the police headquarters and other departments in response to the donation.
At Monday's meeting, the council set a maximum construction price of $27.3 million and approved a resolution stating the city's intention to issue up to $30 million in limited obligation bonds, a move required by the North Carolina Local Government Commission, which permits the bond issuance.
The actual principal the city expects to borrow is $24.5 million. It also will use another $6 million in taxes collected from the North Carolina Research Campus.
Rodgers Builders and the city have been working to reduce costs and speed up the project, city manager Mike Legg said.
The company has employed value engineering — crafting an optimized mix of function and cost — at all levels and has reduced the building's cost by about $660,000.
Legg said the city could save another $200,000 by shelling out part of the first floor.
"We've squeezed this as much as we can squeeze it," Mayor Darrell Hinnant said. "But the chances are fairly thin at this time we're going to make a big change in this number."
The price of the building has ticked up over the past several months, in part because the construction market is picking back up.
"Clearly the pricing has changed some," Legg said. "And the schedule has slipped a little but not a lot."
The building is expected to be substantially complete by November 2015, a delay caused partly because of a lack of bidders but mainly because the city has been waiting for certification from the state Department of Insurance.
"Once we have that, in the next few days, we can get started on foundations," Legg said.
Work not subject to a building permit has already begun at the site because of an earlier council decision to move forward on an interim contract amendment with the construction manager — Rodgers Builders.
"Steel has been ordered," Legg said. "There's been a lot of work done to this point. Site work is well under way."